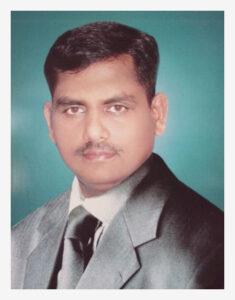 Mr. R. A. Rupnar
Founder
Sparkon Engineers
Founder's Journey: Mr. R.A Rupnar
Welcome to the Heart of Sparkon Engineers
At Sparkon Engineers, we believe in the power of stories. Behind every great venture, there's a journey – a path filled with dreams, challenges, and triumphs. Allow us to take you on a journey through the inception and evolution of Sparkon Engineers, led by Mr. R.A Rupnar, the founder, who holds a total experience of about 35 years in this field.
The Beginning: Inception of a Dream
Every journey begins with a spark, and there was no exception for Mr. R A Rupnar as well. He founded Sparkon Engineers with a dream and a vision. It was a vision of change, innovation, and an unwavering commitment to delivering quality. With unwavering determination, he transformed that vision into a reality.
The story of Sparkon Engineers dates back to 1995 when they initially began as an approved vendor for Carbon Steel Equipment within the Water Treatment Division of Thermax. As time progressed, in 2004, the company took a significant step forward by establishing a dedicated facility for the fabrication of stainless steel equipment, equipped with all the necessary advancements. This expansion enabled them to serve the chemical and brewery industries.
The pursuit of excellence didn't stop there. In recognition of their capabilities, Sparkon Engineers earned approval from BARC for manufacturing critical equipment, a significant milestone in the company's journey. Subsequently, in 2006, they further expanded their operations by setting up a facility in Chakan, specialising in the production of carbon steel equipment, including pressure vessels and heat exchangers.
The journey continued as They extended their footprint to Sangola to meet the demands of Praj Industries' Unitanks Order, solidifying their position as an exclusive vendor. In Sangola, the fabrication work area to accommodate the manufacturing of carbon steel equipment for the paint industry was also expanded.
One of the most significant turning points for the company came in 2010 when Sparkon Engineers became the preferred business supplier for M/s Asian Paints Ltd. They were entrusted with the fabrication of tanks and silos for various projects, a partnership that endures to this day.
In 2012, they were honored with a contract from Simon India Ltd for a Sulphuric Acid Plant at Paradeep Phosphate Ltd in Odisha. Since then, Sparkon Engineers has continually grown in terms of technical capability.
Remarkably, the customer relationships that Sparkon Engineers have established from the very beginning remain strong and continue to thrive till date. Their relentless pursuit of continual improvement in technology, quality, and delivery commitments has been the driving force behind the seamless growth.
Overcoming Obstacles: The Climb to Success
The path to success is rarely a straight line. Sparkon Engineers faced its share of challenges along the way. From securing funding to building a talented team, each hurdle tested their resolve. Yet, every setback became an opportunity to learn, adapt, and grow stronger.
Milestones and Achievements: Celebrating Progress
Throughout this incredible journey, They have achieved significant milestones. Whether it was their first project, reaching a crucial customer base, or being recognized in the industry, each achievement marked a step forward. These moments of success have been their fuel and inspiration to keep pushing the boundaries.
1995 – Establishment
Our journey began with the establishment of our company in 1995, laying the foundation for excellence.
🏆 2006 – BARC Shop Approval
In 2006, we attained BARC shop approval, a testament to our unwavering commitment to quality.
🌐 2007 – Expansion to Sangola Unit
2007 marked expansion as we extended our operations to the Sangola unit, broadening our reach.
🔝 2008 – HEMARL Shop Approval
Achieving HEMARL shop approval in 2008 solidified our reputation for top-notch workmanship.
🔍 2009 – ASME U and R Code Stamp
2009 was a milestone year when we secured the ASME U and R Code Stamp, signifying our compliance with international standards.
🏗️ 2010 – Single Largest Site Order
2010 saw us handling our single largest site order, showcasing our capacity to deliver on large-scale projects.
🏭 2012 – First Turnkey Project for PPL
In 2012, we successfully executed our first turnkey project for PPL, demonstrating our comprehensive project management expertise.
🛡️ 2013 – EIL Enlistment for 25 mm Thk SS
Our capabilities were recognized in 2013 with EIL enlistment for 25 mm thick stainless steel.
🌟 2018 – EIL Enhancement for Carbon and Stainless Steel
2018 was marked by an EIL enhancement, allowing us to work with carbon and stainless steel up to 35 mm thickness.
📈 2023 – EIL Enlistments and Enhancements
In 2023, we proudly announce our latest achievements with EIL enlistments and enhancements for both our shops, reaffirming our commitment to excellence.
These milestones and achievements reflect our relentless pursuit of quality and growth. We look forward to even greater accomplishments in the future.
The Team: A Collective Dream
Behind Sparkon Engineers success is an extraordinary team. Mr. R A Rupnar is immensely proud of the individuals who joined him on this adventure. Together, they've forged a culture of collaboration, innovation, and a relentless pursuit of excellence.
Making a Difference: Impact and Contribution
The journey of Sparkon engineers has never been solely about profits and growth. It's about making a positive impact on their customers, community, and the world. Knowing that their work has touched lives is the greatest reward.
Looking Ahead: A Future Filled with Promise
As the company continues this journey, its sights are set on the future. Sparkon engineers are constantly evolving, embracing change, and pushing the boundaries of what's possible. Their mission remains clear: To create a legacy of innovation setting new benchmarks that elevate the potential of engineering and serve as a beacon of inspiration for generations to come.
Join Sparkon engineers on This Journey
Mr. R A Rupnar invites you to be a part of their story. Sparkon Engineers isn't just a business; it's a testament to dreams, resilience, and the power of persistence. Together, you can shape a brighter future.
Thank you for being a part of this incredible journey.
Warm regards,
Mr. R. A. Rupnar
Founder,
Sparkon Engineers